Each hotel is as individual as its surroundings and is also a reflection of them. You can taste the local flavor on our menus and see it in the art and photography displayed on our walls. You'll catch guests and neighbors hanging out in our bars, get great advice from our team members on what to see and do in the neighborhood, and be refreshed by just how relaxed and inviting it all feels.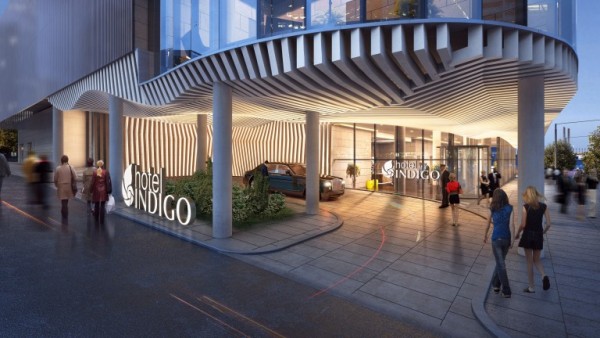 One of the world's top boutique hotel brands has special plans for Melbourne.
Melbourne's heritage listed Docklands precinct is going to have a new feature soon, in the form of a Hotel Indigo, from a company that claims a position as the world's first globally branded boutique hotel experience.
Details of what we can expect from the 170 room 5-star hotel are still vague, but according to Karin Shepphard, COO of Hotel Indigo operations in Australia, it's going to be something special and "not just liveable, but gritty, with an eclectic style".
Livable might be an understatement. So far what's been revealed is that it will boast an indoor resort-style pool and gym, meeting and board rooms, a street-facing restaurant and bar stretching across two floors and uninterrupted waterfront views from all large rooms. The design is envisioned to be unique, the palette vibrant and modern, and the decor inviting, stylish and refreshing.
Hotel Indigo_1
Designs showcase the hotel's contemporary stylings.
The diverse nature of Salta properties, who have been signed to build Hotel Indigo, also hints at the possibility of a permanent apartment in the building, with all the amenities to serve as a home, and flourish as an outstanding investment property.
The immense growth of boutique hotels in recent years has shown that there are a plenty of discerning travellers out there who want more than just a place to sleep, which is where Hotel Indigo in particular has seen immense success. In fact, the Melbourne location is just one of over 60 Hotel Indigo properties currently in the works.
The 170 room hotel is slated to open in 2019, ready to welcome visitors to Melbourne's waterfront gateway. Until then, you've got plenty of other winning 5-star hotels in Melbourne to rest and recoup in after a long day exploring the city.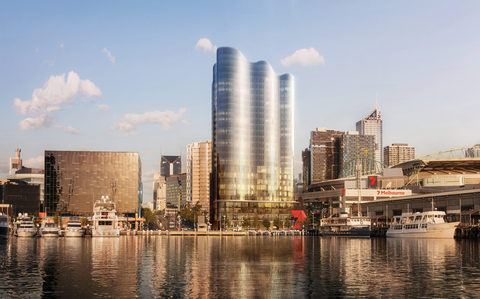 As we enter the 'Age of I', a new traveller segment is emerging: one that is increasingly fixated on local, inspiring and unique experiences that make them feel part of the destination. For these uncompromising and nuanced travellers, run-of-the-mill just isn't enough.
That's why IHG® and Salta Properties have signed a management agreement to build a Hotel Indigo, the refreshingly local brand for the savvy individualist, in Melbourne's eclectic and heritage-listed Docklands waterfront precinct.
Hotel Indigo properties feature unique design at every turn without compromising guest comfort. A vibrant modern colour palette, complemented by natural light and locally influenced design and decor, make for an inviting, stylish and refreshing atmosphere.
The 170-room hotel is the second Hotel Indigo signing for Australia and New Zealand and is due to open in 2019, following the signing of Hotel Indigo Brisbane Fortitude Valley in late 2016. The Docklands, or 'waterfront gateway to Melbourne's soul', is home to the city's leading corporations and government agencies, as well as sporting fanatics and art enthusiasts. The location will allow the hotel do what Hotel Indigo does best: exemplify the unique Docklands neighbourhood story.
Karin Sheppard, Chief Operating Officer Australasia & Japan, IHG said: "The Hotel Indigo brand is extremely important to our continued growth in Australia, as we know the appeal that these 'local' hotels have for our guests."
"We expect Hotel Indigo Melbourne Docklands to become a leading lifestyle hotel in Melbourne, differentiating itself from other hotel offerings in the city thanks to the brand's entirely unique style. While we know Melbourne is seen as the world's most liveable city, Docklands presents a Melbourne that is not just liveable, but gritty, with an eclectic style. Our Hotel Indigo guests will undoubtedly love exploring and being inspired by the area."
For Sam Tarascio, Executive Chairman of Salta Properties, choosing the Docklands location was a particularly poignant decision. "In the 1950s I migrated to Australia, arriving at Victoria Dock on a ship from Italy. That bleak port has been transformed over the years to become Melbourne's vibrant Docklands waterfront, so it means so much to me to give back to the place that welcomed me 67 years ago."
"The Hotel Indigo brand is the perfect fit for a place that oozes local neighbourhood character with expansive water views and open spaces. With some 20 million visitors expected to visit the Docklands each year, it's great timing to be developing this striking hotel in Melbourne's new and contemporary neighbourhood", he said.
Hotel Indigo Melbourne Docklands will boast a large resort-style pool and gym, a meeting and board room, as well as an iconic, street-facing neighbourhood restaurant and bar, split over 2 levels. Adding that extra piece of neighbourhood magic, all of the hotel's large rooms will boast uninterrupted water views.
Creative spaces for inspired get-togethers.
Hotel Indigo properties aren't prototypical—and that means meeting here isn't typical either. Our flexible gathering and event spaces bring the color and character of our neighborhoods indoors (or outdoors, if you prefer) for adaptable, functional versatility that inspires collaboration and creativity. Our team members do the rest, making gathering here an eclectic, intimate experience that's truly unique.